Our Net Zero Ambition and How We Plan to Achieve it
UK agriculture currently accounts for 10% of all UK greenhouse gas emissions which is why we have set a ambition to become 'Net Zero' within the British farms we buy directly from by 2030, to do our part in helping tackle the global climate change crisis. At Morrisons we are in a unique position to help drive this change, buying directly from farms into our manufacturing business and as we are British Farming's biggest supermarket customer.
What do we mean by Net Zero?
By Net Zero, we mean that by 2030 we aim to be supplied by 'Net Zero' carbon British farms as a whole - with some farms that are better at carbon storage balancing other farms with higher emissions. Net Zero means that the emissions from farming activities and inputs are equal to the emissions removals from the atmosphere. We will be working closely with our farmers that supply; beef, lamb, pork, eggs, potatoes and soft fruit directly to us to help them achieve this 'Net Zero' position collectively by 2030.

How do we plan to do this?
We are aware that this sounds like, and is a very challenging task, but we are confident that with the knowledge of industry experts, the engagement of our farmers, our team and everyone's passion to achieve this goal, we have come up with a plan that will help us achieve our target.
This plan is designed to encompass farming both now and in the future. Focusing on current farming practices in order to understand the emissions produced by our farms. While also making long lasting changes, ensuring that the work we do is embedded in the future generations of farmers to come.
1. Measuring Current Emissions
In order to set targets to achieve 'Net Zero' on our farms, we first need to know what emissions they produce. We have teamed up with industry leading company Map of Ag and developed a tried and tested measurement system which calculates farm emissions.
2. 'Seeing is Believing' Blueprint Farms
We are working closely with farmers so we can demonstrate how sustainable farming and 'Net Zero' can be achieved. In order to do this, we're focussing on two beef farms in the UK to demonstrate how this is possible:

3. Harper Adams School of Sustainable Farming
Click here to visit the School of Sustainable Food and Farming
4. Project Farming Groups
Achieving 'Net Zero' would be impossible without the help, support and engagement of the farmers that supply us. This is why we want to take a proactive approach, ensuring that we involve our farmers in the work that we do, in order to best understand what we can do to help them. Therefore, we have set up a number of project farming groups in all our direct farming supply chain areas, so we can engage with our farmers and understand what needs to be in place for us all to best succeed.
5. Incentivising for the Future
As Morrisons, we are in a unique position to help drive this goal of 'Net Zero' within the farms that supply us and are able to provide farmers with incentives to help us achieve that will also benefit them. We plan to do this by rewarding and promoting 'Net Zero' activities to encourage our farmers to achieve our goals and make sure there is something in it for them.
Global Farm Metric
The Sustainable Food Trust has conceptualised the 'Global Farm Metric' to help speed up the process of achieving more sustainable food and agriculture. This model takes on an inclusive approach, providing a common language for all, and encompasses all the key stakeholders; farmers, consumers, governments and businesses all of which have a role to play in making sustainable choices and driving change in the right direction. Net Zero is one part of this big puzzle to making big changes but we believe it is vital for us to take part and do our bit to help.
You can find out more about the Global Farm Metric by clicking here.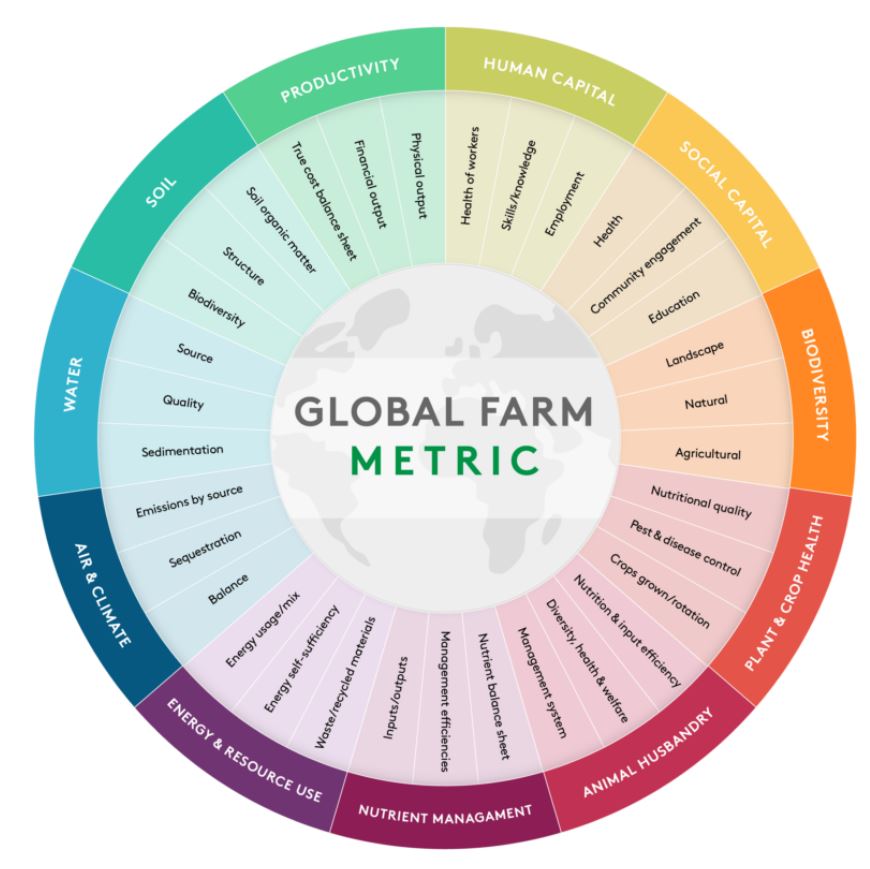 Other Supply Chains
Outside our direct supply chain ambition, other suppliers in important farming sectors, like dairy and poultry, are working hard on their own environmental impacts. You can find out more about some of these below: