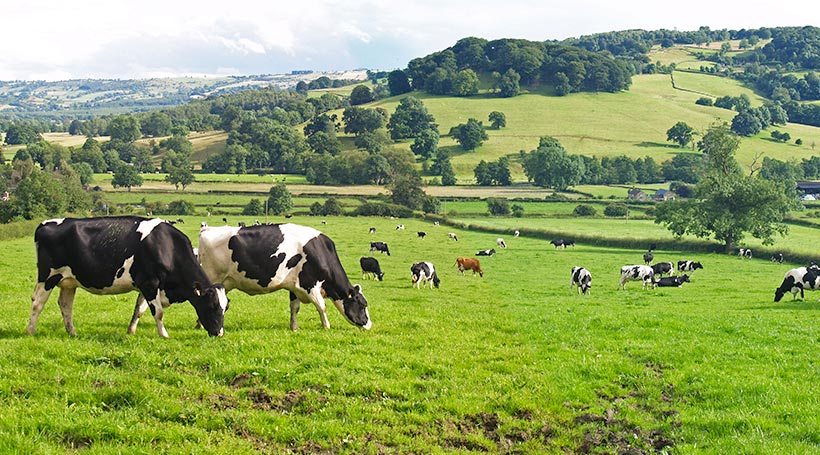 In October 2015 we launched For Farmers and became the first UK retailer to create a range where part of the retail price of the products goes directly back to farmers. Some of their stories can be found here.
Milk For Farmers was first in the range and a 4 pint bottle is 23 pence more than our own label standard milk, equivalent to around 10 pence per litre. We pass 100% of this premium to Arla, the farmer-owned cooperative which supplies the milk for distribution among our aligned UK Morrisons farmers. The option is also available for cream, with around 10p / pot going directly to the farmers who supply us.
Milk For Farmers Cheese is 34 pence more than our standard own label cheddar, which is equivalent to an extra 10 pence per litre for the milk used to make the cheese, all of which goes back to the British farmers who supply the milk to our supplier Lactalis McClelland.
For Farmers has been popular with customers and our suppliers and after listening to their comments the range was extended to include cream and butter.
The For Farmers range now includes:
Milk for Farmers Whole milk in 2 and 4 pint bottles
Milk for Farmers Semi Skimmed milk in 2 and 4 pint bottles
Milk For Farmers Skimmed milk as 4 pint bottle
Milk For Farmers Mature and Extra Mature cheese in 350g blocks
Cream For Farmers Single and Double cream in 300ml pots
We have committed to publishing For Farmers sales information at regular intervals so customers can see how their purchase is helping to support our farmers.
Milk For Farmers Performance
Performance to 31 July 2020
July 2020
Milk & Cream: 1,560,063 litres of milk and 171,760 pots of cream sold. This generated £340,754 extra money for Arla farmers in the UK.
Cheese: 36,524 blocks of cheese sold which is 12,783.4kg. This generated £12,418 extra money for Lactalis and First Milk farmers.
Since October 2015 the For Farmers range has generated £16,986,377 of extra income for farmers.
Since August 2017, the For Farmers range has generated £8,814,869 of extra income for UK farmers.